Natural Bamboo Fence -
Directly from the importer!
Bamboo fences are installed in many gardens in Israel and worldwide as a decorative item. The bamboo is a very durable material which is easy to install and has a natural look, creating a relaxed and pleasant atmosphere in every garden.
Specification:
Product name: bamboo fence
Color: natural golden hue
Quantity in package: 5 meters long
Thickness: 22/24 (thick)
Fence height: one meter / one and a half meters / two meters
Use: bamboo is an ideal solution for fences, area separating partitions, shading, pergolas, and roof covers. The bamboo reeds are easily installed and durable for years under outdoors conditions.
Deshe Kavua is your supplier for High quality bamboo fences products – Direct price from the importer to the consumer!
For a quote and professional consultation – call now! 077-21-500-31
Bamboo fences have become a hot hit in the gardening industry due to their high durability and low price. We market high-quality bamboo produced in advanced factories in the Far East. The advantage of purchasing on a permanent lawn site is that you get a quality bamboo fence at a significantly lower price than the market.
Bamboo - a great design solution at a low price!
Do you need to erect a fence in the garden or on the balcony quickly and at a low price?DESHE KAVUA invites you to be impressed by a large selection of bamboo fences at low prices from the importer.
Bamboo is a natural product that is used as an impressive element in the field of outdoor design. In the DESHE KAVUA store, you will find a large selection of bamboo fences, in varying heights and sizes, for a wide variety of uses. Our bamboo fences are carefully selected and considered to be particularly high quality and durable.
What exactly is threaded bamboo?
Threaded bamboo is basically bamboo rods, which were joined together in one piece for the fence. The procedure is carried out by threading a galvanized iron wire in the body of the bamboo poles. And hence its name, threaded bamboo. Threaded bamboo is considered the highest quality among the bamboo fences common in the field of outdoor design. The reason for this is that threading the iron wire along the bamboo canes gives the fence greater strength and durability compared to other common manufacturing procedures.
Bamboo fences are a highly sought-after design and practical solution. They can suit anyone who wants to delimit the garden in a beautiful and aesthetic way, yet also cheap and easy to use. Bamboo fences can be an excellent solution for your garden. Thanks to their natural appearance, they blend into the garden in a wonderful way. Bamboo fences give you privacy in the garden, preventing the entry of strangers. They also have high durability.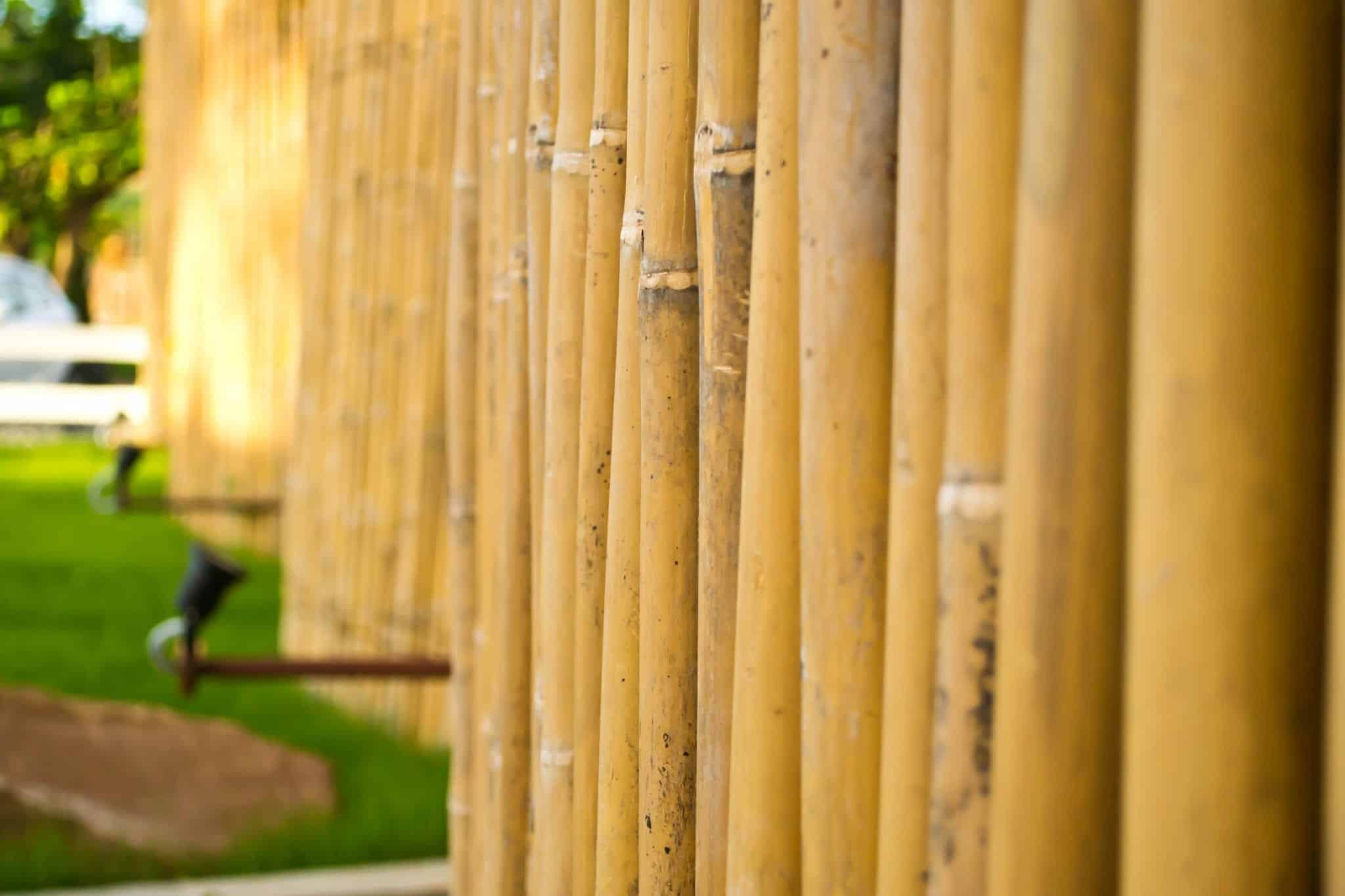 The advantages of installing
bamboo fences:
Bamboo is stronger than wood and, with proper maintenance it will last for many years. Bamboo canes are used by many industries to build furniture, constructions and lifestyle products. Bamboo is an extremely strong material and easy to process – this is why it has become very popular in the landscape design industry.
Bamboo fences can be installed easily, and there is no need for professionals and expensive installation costs. You can connect them to an existing fence or use supporting iron posts.
Bamboo fences have a natural and rustic look. The bamboo will give each space where different types of bamboo fences can be obtained. You can use them in different design styles and upgrade any design with the help of bamboo.
Bamboo fences are a cheap solution that gives you a lot of contribution in relation to the price, or as they say, invest a minimum and get the maximum. On the one hand, it is the cheapest product on the market, but on the other hand, it is of the highest quality. The low price also makes them a solution for house renters who usually do not like to invest in a house that is not theirs.
When we build the garden, we should think about the future and not just about the moment of installation. If we have used a certain material, we must ask ourselves what will happen in a few months and what will happen in a few years. There are materials that require a lot of maintenance, and this causes you a lot of expenses. On the other hand, bamboo fences do not require special maintenance; it is recommended to apply oil on them with a brush twice a year to ensure that they will last longer. Bamboo fences can last for many years, depending on weather conditions.
Environmentally friendly bamboo
 Bamboo is a natural material that comes to us from the plant. And not only is it a natural material, but it also grows and regenerates quickly (unlike wood which takes many years).

For this reason, bamboo fences are an environmentally friendly and highly recommended solution. Growing bamboo also does not require many resources or pesticides.
Need Additional Help?
Call us: 077-21-500-31